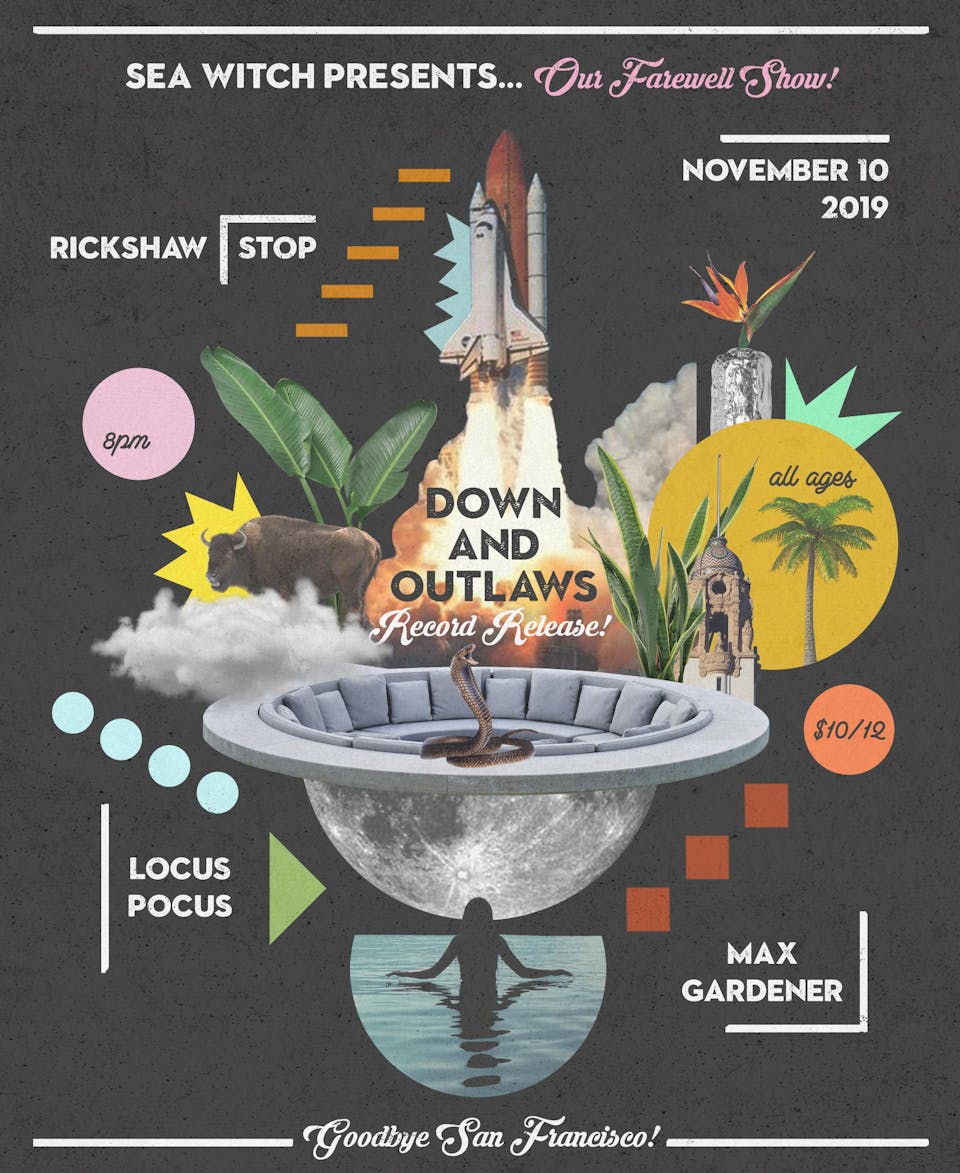 Presented by Sea Witch Productions
Down and Outlaws
Locus Pocus, Max Gardener
$10.00
Tickets At The Door
THE SEA WITCH FAREWELL SHOW
w/
Down and Outlaws (album release)
Locus Pocus
Max Gardener
8 pm
$10 adv /$12 doors
After 4 years and over 100 shows, Sea Witch Productions is leaving San Francisco and relocating to Los Angeles. We're so grateful for everything this city has given us, including a badass community of artists and activists we call our friends. Thank you to every single person who came out and supported us, bought our zines, donated tampons, collaborated with us, canvased with us, and displayed your art or music at our shows. We're so proud of the work we've done together and the conversations we pushed.
Come out and say GOODBYE~ There will be free copies of The Sea Witch Zine, Volumes 2-3!
It's been real, San Francisco. We love you!
xx Lauren and Haley
After spending the better part of a decade touring, gigging, and putting out music, somewhere along the way, Down and Outlaws became veterans of the San Francisco music scene. Loud, visceral, and self-assured like few rock bands are these days, the quartet continues to impress audiences up and down the west coast with a singular brand of punk-influenced desert rock, and a heart and soul based firmly in the classics. This is music to blast with your windows down, as you leave the city in your rear view.
After years of hard work, ambition, and plenty of disappointment, "Gas Money" is D&O's purest release yet. Recorded over a year at the Complex in San Francisco with George Rosenthal, "Gas Money" is a retort to critics, naysayers, and anyone who might tell D&O what they should try to be. Recorded mostly in a few takes, with minimal overdubs, "Gas Money" is a raw album, showcasing a group of musicians at the top of their game, making music for themselves, as it should've been all along.
What is Locus Pocus? A question, an affirmation, a soothing psychic balm in a world gone mad. We all strive for answers to life's most vexing questions- Why do bad things happen to good people? What does it mean to live a virtuous life? Why won't my girlfriend dance with me? Some seek refuge in the divine. Others, Scientology. Locus Pocus strives to transcend these fleeting ephemera and inhabit a truly higher plane of being, one pulsing with the driving rhythms of drummer Michael Kipnis and bassist Daniel de Lorimier. Amid the shallow decadence of modern society, submit to the commanding authority of George S. Rosenthal's guitar and the spellbinding keyboard of Daniel Markowitz. The world is on fire, and you can hear it in the voice of Vivian Cook.
Conceived in the depths of a Bay Area fever dream, Locus Pocus is the response to the question you were too puny and afraid to ask. It's the voice in the distance that lures you outside of the cave and into the light. The extra dimension that keeps you from hurtling over the cliff like so many walruses who came before you. The likes of none other than Broken Social Scene and Man Man can attest to these abilities. Abandon your friends, say farewell to your family- they're nothing but thinly-veiled witches who want nothing more than for you to stray from the one true path. Let your mind peel away like a gently blooming onion and allow Locus Pocus to do the thinking for you.
Max Gardener makes his self-described "bedroom theme music" amidst the solitude of his California bedroom, and he intends for you to hear it in the solitude of yours.
On debut record Memory Lounge [Sports Day Records and Citrus City Records], Gardener drifts forth, mixing the sunny trademarks of sixties psych and nostalgia-inducing guitar pop hooks with his omnipresent optimism and a healthy dose of melancholy.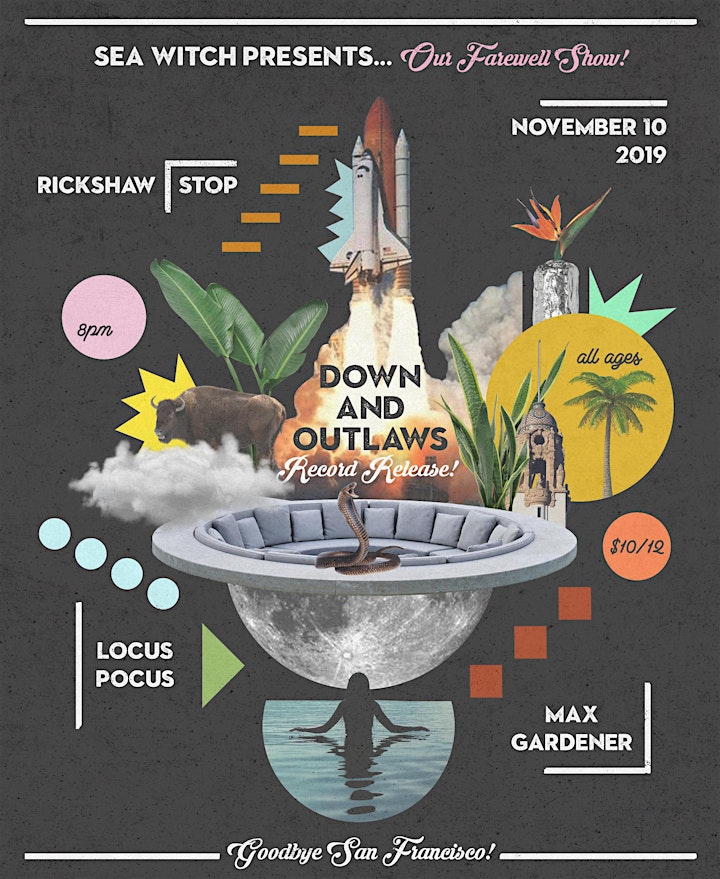 Venue Information:
Rickshaw Stop
155 Fell St
San Francisco, CA, 94102