NERD NITE SF #112: Nature Photography, Octopuses, and Superheroes!
$10.00
Tickets At The Door
NERD NITE SF #112: Nature Photography, Octopuses, and Superheroes!
7 pm
$10
Grab a drink, feast with Miss Arepita, enjoy vinyl spun by DJAB, and see the wonders of the world. Be there and be square!
Anand Varma:
We at Nerd Nite are going to have a fan moment. It's taken 5+ years of scheduling, but the stars happened to align this month. Anand takes some of the most incredible nature photography we've ever seen, and if you've been coming to Nerd Nite, you've witnessed it crop up, time and time again, in talks on ants, bees, parasites, and more. We're delighted to have this chance to showcase his work!
Anand has a degree in integrative biology from UC Berkeley and uses it to help biologists communicate their research through photographs. You can see his work at https://www.varmaphoto.com/.
------------------------
"The Bigfoot of Octopuses" by Richard Ross
In the 1980s, accounts emerged of an octopus that behaved so unlike anything previously observed of octopuses—beak-to-beak mating, food sharing by mates, den sharing, strategic hunting, and the ability to stay alive through multiple spawns. The cephalopod research community deemed these early observations unbelievable, and attempts to publish a behavioral study by Panamanian marine biologist Arcadio Rodaniche were not successful, except for two tantalizing paragraphs that appeared in a notes section of a journal. For decades, these two paragraphs fascinated octopus enthusiasts but were largely still thought to be fantasy.
In 2012, Richard Ross of the California Academy of Sciences and Roy Caldwell of the University of California, Berkeley, were able to obtain live specimens and verify those early observations, and then publish their findings with Rodaniche as co-author. This talk will cover the unique behaviors of the larger Pacific striped octopus and the story of the rediscovery of this amazing animal—plus how it felt to finally get the Bigfoot of octopuses in the lab for study!
------------------------
"The Carbon Footprint of Superheroes" by Miles Traer
Our noble heroes are always ready to take action to save the world. But holy polluters, Batman! Those superpowers and super-gadgets can have super-carbon footprints! Geologist Miles Traer does the math on just how much CO2 our favorite so-called heroes produce. Avengers, disassemble?
Miles is a geologist and educator at Stanford University and creator of the award-winning Generation Anthropocene (https://www.genanthro.com/) podcast. He studies landscape evolution on Earth, Mars, and Saturn's largest moon, Titan. Explore Miles's research and pop-sci articles at www.milestraer.com.
------------------------
With: Alpha Bravo, who'll be spinning tunes specially selected to match our presenters' themes. Follow the set list on Twitter @djalphabravo
Food: Amazing arepas from Miss Arepita-Arepa Mobile!
Nerd Nite SF is a monthly lecture-in-bar series where nerds get together to hear short presentations and drink. Talks include everything from science to history to game design to, well, anything that could be considered nerdy! Be there and be square!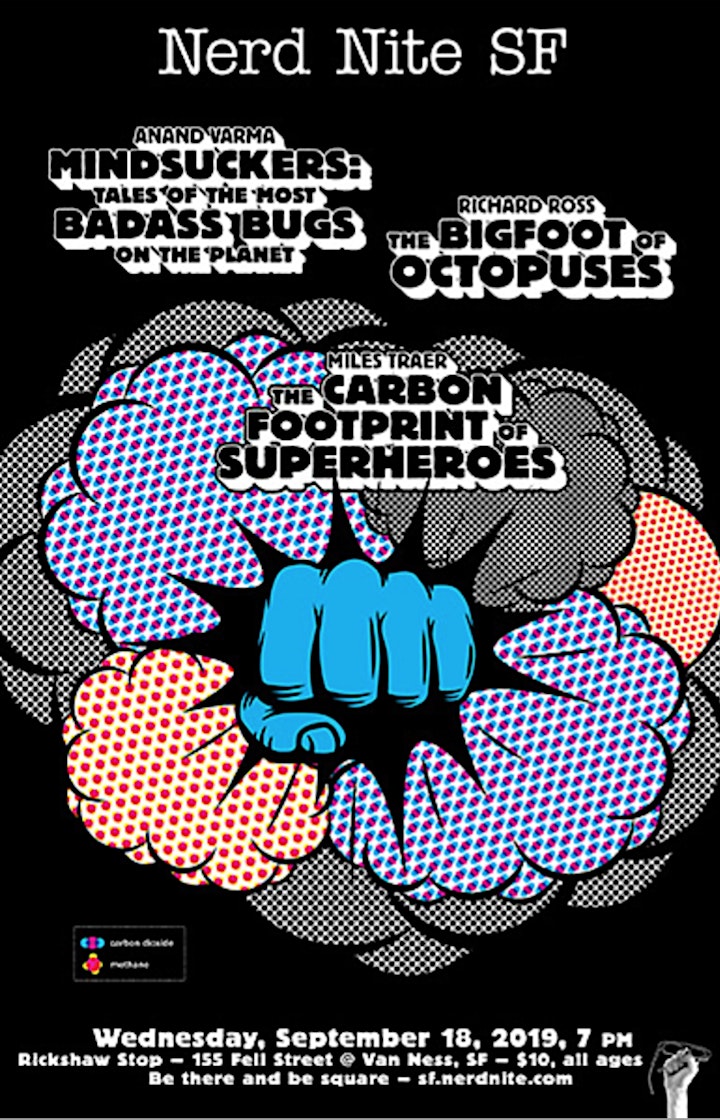 Venue Information:
Rickshaw Stop
155 Fell St

San Francisco, CA, 94102