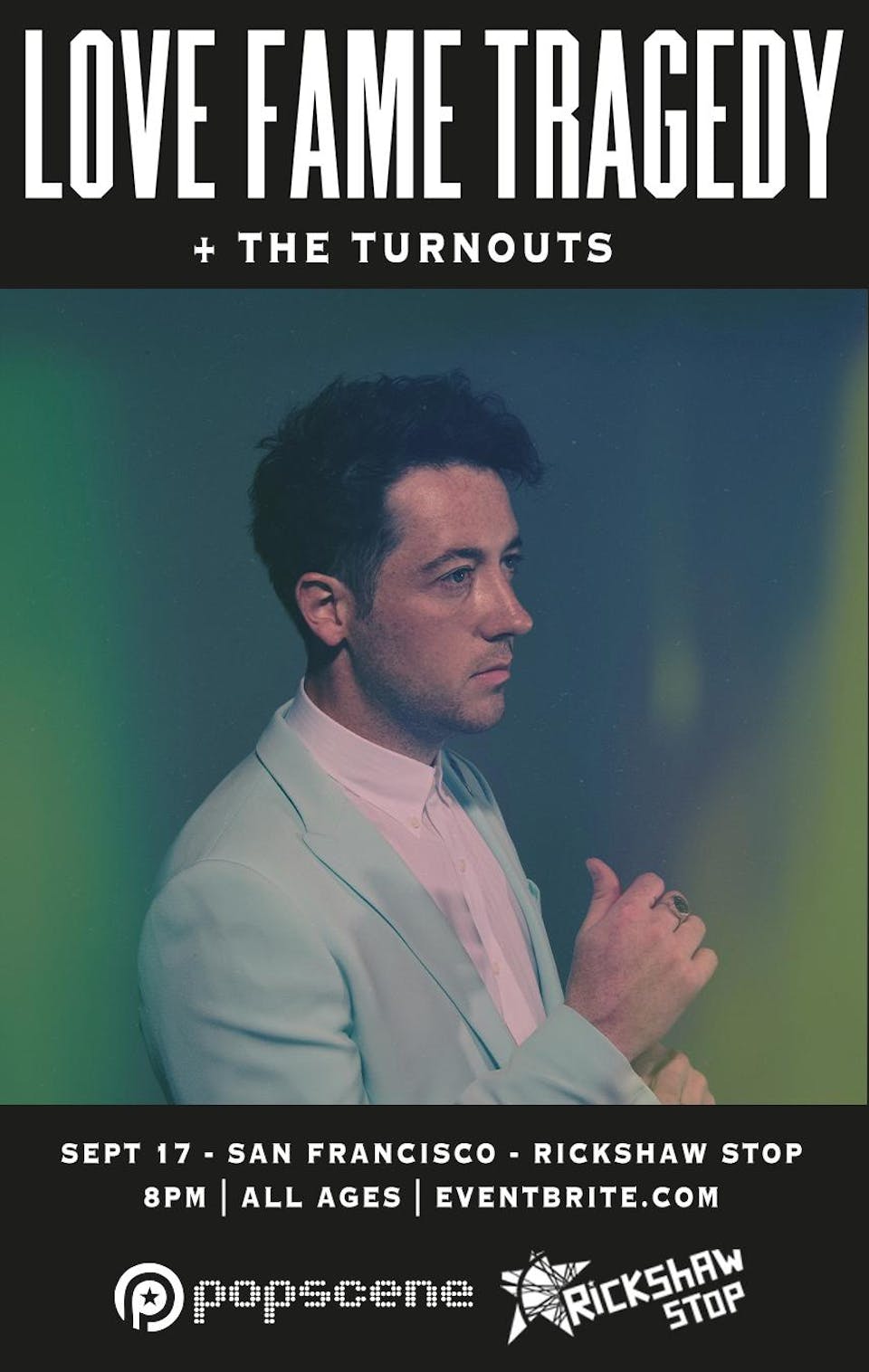 LOVE FAME TRAGEDY has been canceled due to illness!
Gorillaz. The Postal Service. Gnarls Barkley. Nick Cave and Kylie Minogue. When musicians from differing points on the sonic spectrum collide, magical things can happen; there's a fatalistic creative urge to spin the barrel and see what fires out. And so it was for Matthew 'Murph' Murphy and the array of stellar alt-rock and pop guests that make up his new project Love Fame Tragedy. Relocated away from his Wombats bandmates in LA, from 2016 he found himself collecting songs that didn't seem to fit on The Wombats' Top Three 2017 album 'Beautiful People Will Ruin Your Life' and itching to explore new musical avenues.
"I just wanted to try something new, something that didn't involve any politics ," he says. "I don't think it was an ego thing, it was just something I wanted to experience and see how it turned out. I wanted to start a project that's much more brain-to-mouth, so to speak. I think it, I record it, I release it and there's not much bullshit in between those stages, which is how music is leaning now. I wanted to give myself an avenue in which to do that - to collaborate with whoever and do whatever and there be no politics about it."
So when, over the course of 2018, Murph set about recording the batches of songs he'd put aside for his new project with producer Mark Crew ( Bastille / Rag'n'Bone Man / The Wombats) , he'd play contacts list roulette. While he was recording at 64 Sound in LA "hipsterville" Highland Park, he invited his old touring mate and now golf buddy Joey Santiago from Pixies to pop down after the eighteenth hole and spend a few hours unleashing his sordid swamp rock beast on 'My Cheating Heart' and 'Everything Effects Me Now'.
Mark Stoermer from The Killers also dropped in to the LA studio to play bass on 'Everything...' while, in London, Gus Unger-Hamilton from Alt-J got the call from One Eyed Jack's studio in South London, where his good friend was looking for striking ambient keyboards add to 'Backflip' and take 'Brand New Brain' in a glitchy future soul direction.
As intended, Love Fame Tragedy will flow unhindered into the world. One track a month, starting in midsummer, will compile into a debut four-track EP of adventurous, uninhibited alt-pop running the gamut from infectious industrial synth-pop ('My Cheating Heart') to chrome-plated electro-blues ('Backflip') and pure 21s t Century pop in'Pills', a song Murph describes as "a really fucked up Murph version of Robyn's 'DancingOn My Own'. The project has clearly blown wide Murph's musical horizons - he even considers forthcoming track 'Everything Effects Me Now' as "my attempt at Don Henley's 'Boys Of Summer'... I don't think I'd be getting away with that in any other scenario". Yet, at its core, Love Fame Tragedy bears all the hallmarks of Murph's classic synth-pop confessionals, where hedonism, responsibility, anxiety and the fragility of love collide.
The Turnouts are an alternative rock band from San Francisco made up of vocalist/guitarist Mason Mejia, bassist Weston Pollock, guitarist Aaron Borunda, guitarist Clayton Silva, and drummer Michael Dallara.
https://theturnouts.bandcamp.com/
*Orders place for the sole purpose of resale will be cancelled. Orders exceeding the 6 ticket limit subject to cancellation.*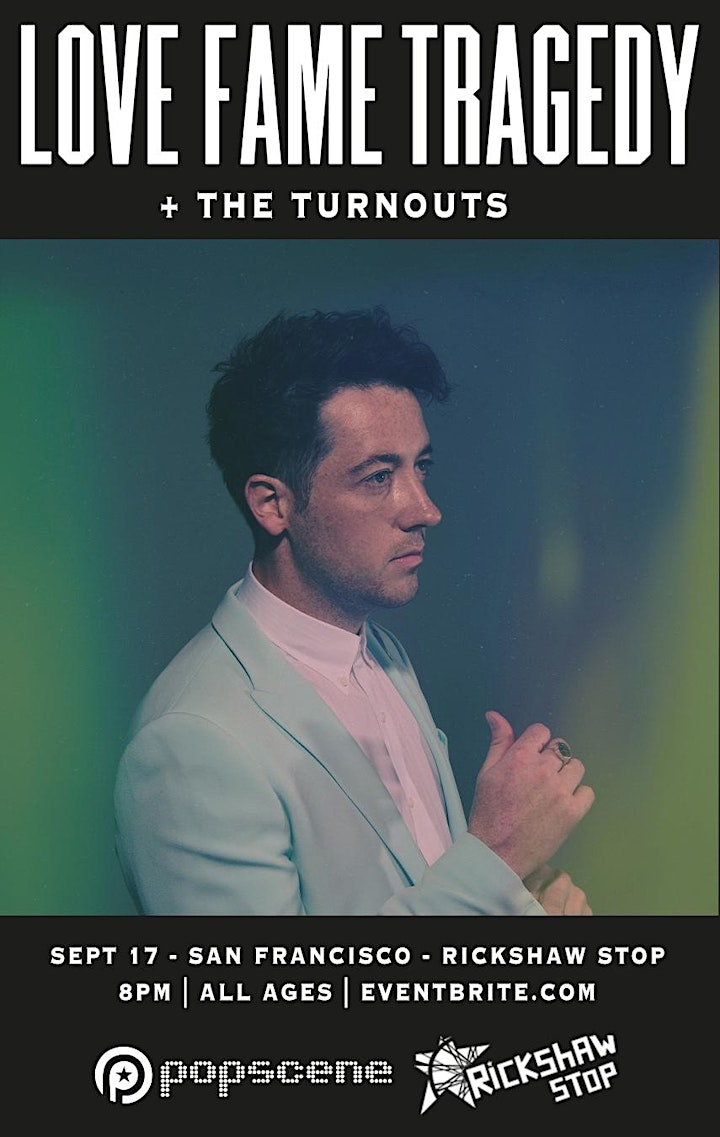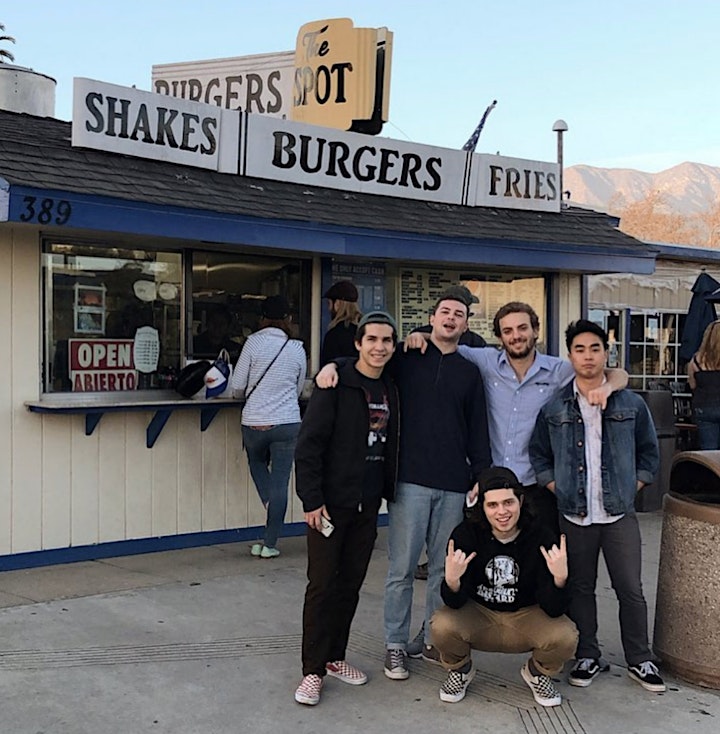 Venue Information:
Rickshaw Stop
155 Fell St
San Francisco, CA, 94102