Presented by Popscene + Rickshaw Stop
HYPHEN HYPHEN
Sumif, DJ Aaron Axelsen
Rickshaw Stop + Popscene co-present HYPHEN HYPHEN SUMif + dj aaron axelsen 9 pm $15 adv / $18 doors All Ages
Because of the COVID-19 crisis, Hyphen Hyphen is postponing their May 2020 tour. We're sorry for an inconvenience this has caused you.
This is a make-up date for the Dec 4 and May 14 shows. If you had tix for those shows, they're good for this one too. If you want a refund of your tix, please let us know by Nov 15.
Here's a note from the band:
Hello everybody!
Due to this crazy situation we had to cancel our north american tour...
We wanted to write this little message to you and send you all our strength and faith to get through this crisis.
Thank you for your support we owe you one that's for sure.
We're eager to come back as soon as possible with more passion than ever.
If the world is getting crazy we'll have to be crazier!
Until then please take care, we love you
HH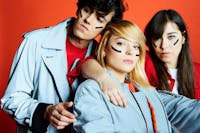 Hailing from the coastal town of Nice, Southern France, meet the explosive award-winning trio Hyphen Hyphen and their uncompromising performance/DJ set.
In 2016, those who did not know them yet would discover Hyphen Hyphen on the prestigious Victoires de la Musique stage for an explosive performance of the single "Just Need Your Love." The group had just won the Best New Live Act Award. A logical coronation for the young 25-year old French artists, who have become masters of the art of embracing the crowds during intense concerts. Hyphen Hyphen has a track record of several hundreds of dates in the biggest venues and festivals.
An impetus and a wild strength, are across all the new compositions of the trio. HH is a grand, lively album; one in the form of a slap (and we're asking for it again): free in the way it draws on all the genres. It draws equally as well on the groove of RnB as it does on the immediateness of pop or the trance of UK House. A logical eclecticism for a group whose musical hall of fame brings together artists as varied as Kanye West and Chopin, Destiny's Child and B.B King. A great album too, in the way it puts together lyrics rich in meaning.
Hyphen Hyphen do dance for sure, but with their heads full of everything which has made up this zeitgeist: sexual freedom, a quest for intoxication and feminism.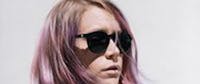 SUMif is a San Francisco-based electro-pop outfit spearheaded by Steph Wells. Inspired by artists such as Ellie Goulding, Jack Garratt, and Tove Lo, the project released ten singles from 2016 to 2017 – including the #1 Hype Machine hit "Lay Down" – and has since opened for VÉRITÉ, Ella Vos, RKCB, Lauv, Little Boots, and KUČKA. Joined onstage by synth/guitarist Rahi Kumar, SUMif is what The Bay Bridged calls "an enormous roar" and "one of [2016's] best female vocalists" according to Indie Shuffle.

Venue Information:
Rickshaw Stop
155 Fell St

San Francisco, CA, 94102