Popscene presents FRANC MOODY plus DJ Aaron Axelsen 8 pm $15 adv 18+
It took the London band Franc Moody some time to perfect the ideal clap sound. They tried clapping their hands, then they tried numerous people clapping their hands. But after much experimentation, they discovered that the most pristine clap sound comes, yes, when you record three pairs of hands clapping in which one pair is wearing marigolds. This isn't abnormal behaviour for Franc Moody. Listen to their songs and you'll hear salt shakers and mugs, dripping radiators, the sound of someone zipping their flies, and their own family playing strings. It's this kind of DIY sound design and attention to detail that has made the new London duo such a curious and captivating proposition.
Franc Moody's sound is contemporary funk, awash with electronic inspiration, human touches, and throbbing grooves. Like Daft Punk and Jamiroquai before them, they draw from the sounds, styles and techniques of funk, disco and soul while simultaneously threading in electronic influences of the here and now. And over their short lifespan as a band they've shown a masterful knack for creating rich and textured bangers, like "Dopamine" (which has amassed over 2 million streams) and "Dance Moves" (over 1 million streams). Their hypnotic and free-form live show has garnered a cult following, and they'll be playing their biggest one to date this April in London's 1100 capacity 'Heaven' as well as a 7 date tour including iconic Leeds venue Belgrave Music Hall and a trip to Dublin.
In 2018, "Dopamine" was included on their breakthrough EP, Dance Moves. The EP was a frenetic journey through shimmering intergalactic funk and undulating bass n' drum grooves that was as hypnotic as it was arresting. On Spotify, it has amassed over 4 million streams across the eight songs. One of the lead tracks, "Super Star Struck" also saw them commission their first video. In a short animated film by Crack Stevens and Mason London, the female protagonist of the songs is reimagined as an unlikely old lady superhero (based on Crack Steven's aunt) spreading joy across the planet. In their follow up single, "Pheremones," the same video team got together to create a prequel in which the superhero visits an underwater Atlantis.
A fair chunk of Franc Moody's success has come thanks to the forest blaze of praise that comes from their mesmerising live shows. As a duo who came up via the warehouse rave scene, they feel their most comfortable when they are onstage, surrounded by the incredible musicians and friends they feel lucky to call their band, causing a crowd of hundreds to explode with ecstasy. It's a vibe they carry with them, whether they are supporting Friendly Fires on their UK tour or rocking out to thousands at Lovebox. https://soundcloud.com/franc-moody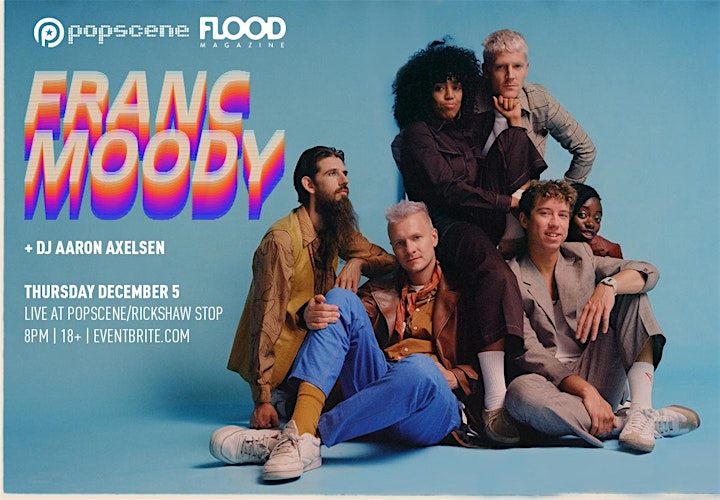 Venue Information:
Rickshaw Stop
155 Fell St
San Francisco, CA, 94102