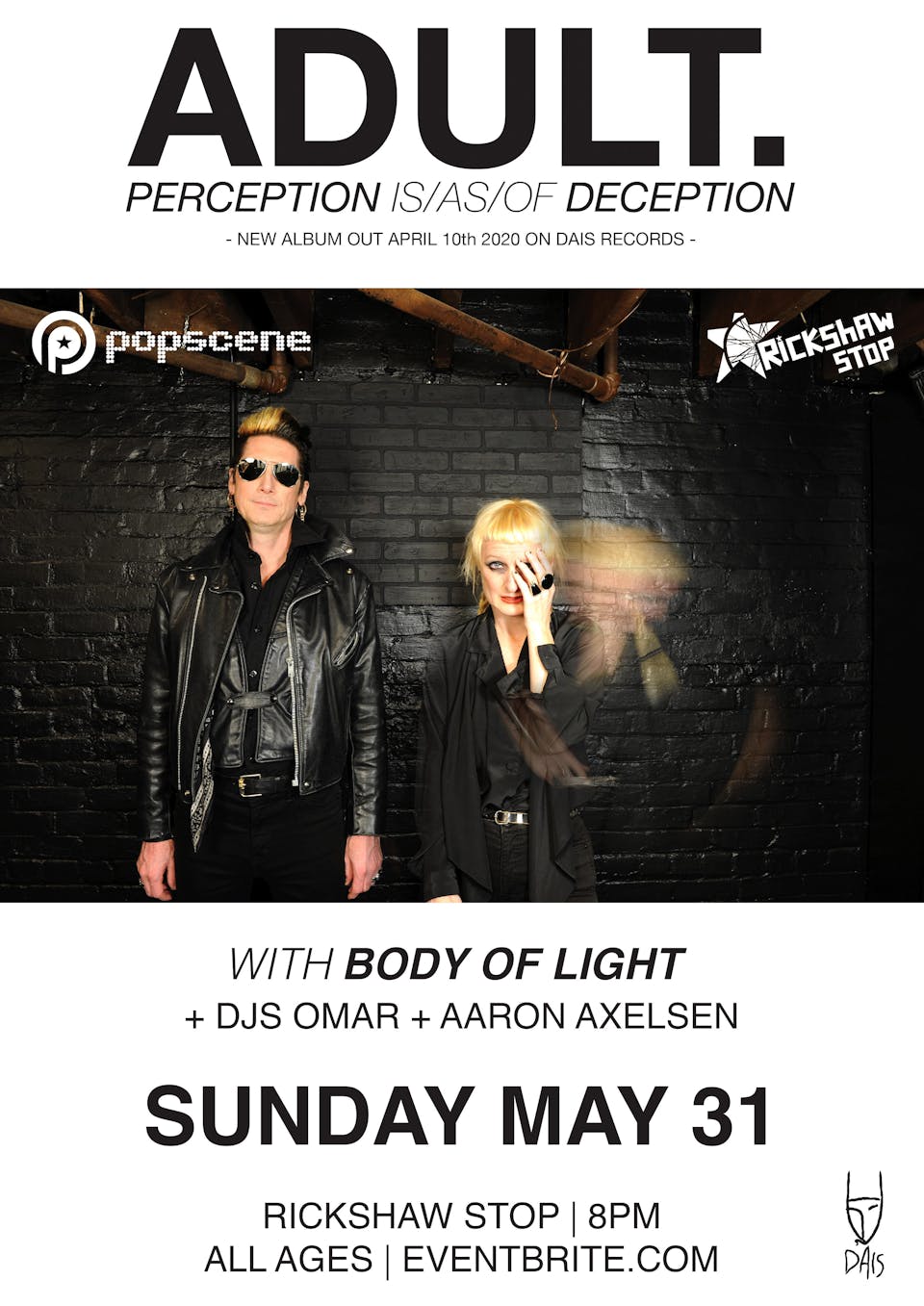 Popscene + Rickshaw Stop co-present
ADULT.
Body Of Light, plus DJs Aaron and Omar of Popscene
popscene + Rickshaw Stop co-present ADULT. Body Of Light + DJ Aaron Axelsen and Omar 8 pm $15 adv / $17 doors All Ages

In response to the recent recommendations of local, state and global health authorities and mandates by city and state government, ADULT.'s show originally scheduled for 5/31 is postponed.
We are actively working to reschedule this show to a future time period. We hope to have that information to you soon. If you have purchased tickets for the original date, your tickets will be honored at the rescheduled date. Should you be unable to attend the new date, or simply want a refund, please go to place of purchase. Please check back on our website, rickshawstop.com, for the latest information and status of the show.
Over the last 23 years, Detroit-based ADULT. (Nicola Kuperus & Adam Lee Miller) have released seven albums across a multitude of labels: DAIS, Mute, Ghostly International, Thrill Jockey, Third Man Records, Clone Records, and their own Ersatz Audio. They have remixed the likes of LIARS, John Foxx, & Barry Adamson (Magazine). This past year they've had the honor of sharing the stage with such personally inspirationing bands as Nitzer Ebb, L7, Severed Heads and Gary Numan. They where also included on Mute Records' 2019 release STUMM433, a tribute to John Cage's game changing composition 4'33" and featuring such artists as Depeche Mode, New Order and Cabaret Voltaire.
As they continue to mine their own unique sound of the avant-garde meets electronics meets punk meets your own discomfort ADULT. are pleased to announce the completion of album number eight. This album was conceived in a black hole. After their last album THIS BEHAVIOR (DAIS 2018), written in a majestic cabin in the snow covered woods of northern Michigan, the band wanted to do something that was a total contrast - something less peaceful, even if writing THIS BEHAVIOR was partially like a scene out of "The Shining." The focus this time around was sensory deprivation; nothing to look at, no interference, just darkness. From May - September 2019 they recorded an album in their basement or "cellar" (depending on which word fulfills your perception). The space was painted completely black with no windows, only enough light to operate the machines (plus, a few metal pipes attached to a garbage can). There was no sense of time, no sense of season. There were no phones. There was no social engagement down in the pit. The main purpose in the studio… to question the idea of "perception."
Their new album PERCEPTION IS/AS/OF DECEPTION consists of 9 songs based on the uncertainty of what we see, how we see it, what we do with that information we are delivered day in/day out. With references that stretch from Merleau-Ponty to Goethe to Aldous Huxley's "Doors of Perception" to Jean Cocteau's "Blood of a Poet", there is a history of human behavior wrapped up and twisted into this paranoid, beat laden, overindulgent, over-synthed, mind fuck of a reality. https://www.adultperiod.com/
Body Of Light is an electronic duo and synth-pop band made up by brothers Andrew and Alexander Jarson. Starting as an exploration of noise, sound, and rich vocal loops, over their 10 years of existence, they have found a new foothold as something more complex, structured, and moving. https://bodyoflightmusic.bandcamp.com/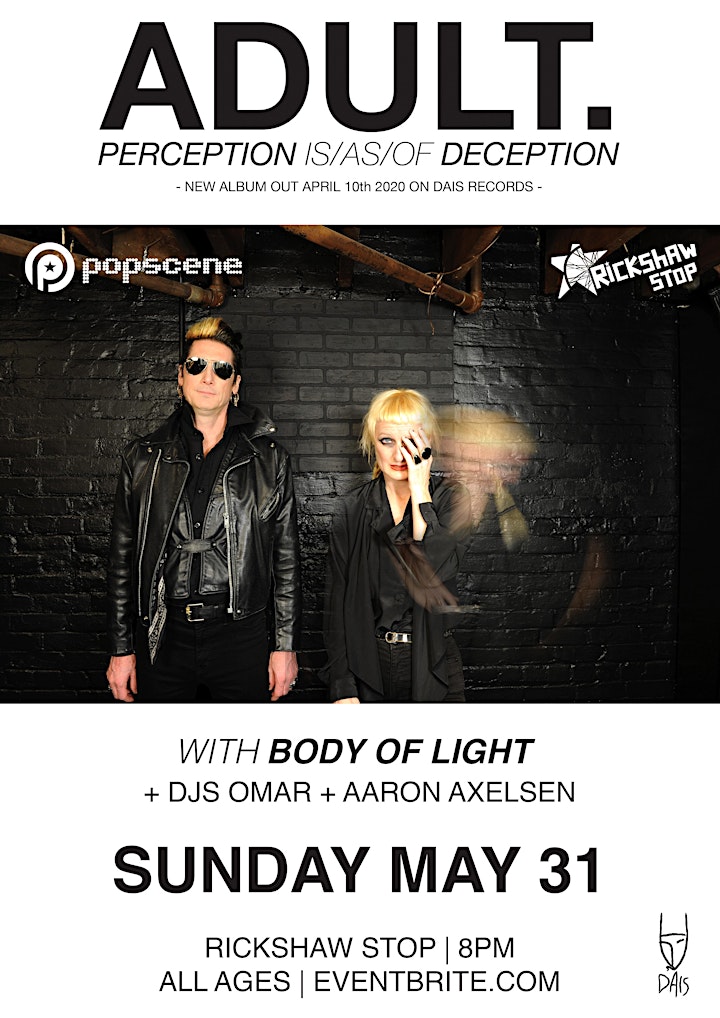 Venue Information:
Rickshaw Stop
155 Fell St
San Francisco, CA, 94102